The program can automatically send notifications to all concerned with the task, i.e. Owner and Assigned Resource. In case you don't want a task notification to be sent automatically you should select a status where notification mode is turned off, like Draft Status (see Setting Workflow).
Notifications can be sent each time there is a change in the task's attributes, like Name, Priority, Status, Due Date, Start Time, Finish Time, Reminder, Attachment, Note, etc. Notifications panel displays received notifications which are checked for each Resource individually in Notifications tab of Resource dialog (see Setting Resource)

Notifications panel at the left bottom of the screen
Notification panel allows users to mark selected or all the Notifications as read.

Select a Notification and click on Mark As Read

Click on Mark All As Read
Also users can filter Notifications to display those you haven't read yet or display only those Notifications that belong to a highlighted Task.

Click on Show UnRead button

Click on Show Notifications of Highlighted Task
When users activate Notification Description they will be able to see the Types of Notifications they are subscribed to and changes that took place in Task attributes, such as Status, Assigned Resource, Start and Finish Date, Priority, etc. If they want to see the Task on the list they can highlight it there by click on Find task button .

Click on Show Description button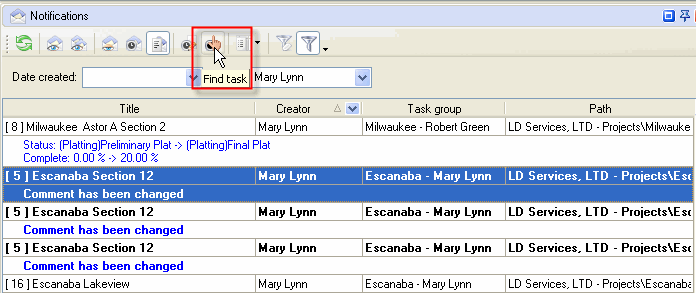 Click on Find Task button