While ordering your product I get a page with the message "There are currently no items in your basket".
This message means that you removed the products VIP Task Manager Standard or VIP Task Manager Professional and additional options ("Get it on DVD", Priority Support Service and Business Templates) from your order form while placing the order.
In this case you need to place a new order for VIP Task Manager, please follow the instructions described by the link below: How to place an order of VIP Task Manager
Please make sure that this time you didn't click the "Remove" icon

for the products you would like to order.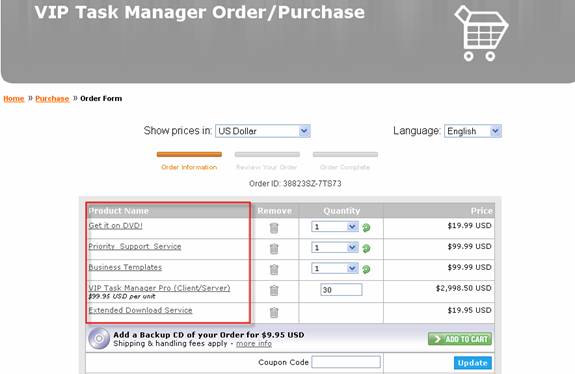 Available: Workdays, Monday - Friday
8 am - 8 pm GMT for Europe/Asia
1 am - 1 pm PST for America


Feb 1, 2016 TopTenReview: VIP Organizer is one of the best organizer software
TopTenReview has published Organizer Software Review 2016 and our product has been included to the list of the best software programs for personal information management. The author considers VIP Organizer to be a good choice if you are looking for something simple to help you organize your days.