How to place an order of VIP Task Manager?
To place an order of VIP Task Manager (Standard or Professional edition) in our online store, please do the following:
To visit our online store please click the link below:
http://www.taskmanagementsoft.com/purchase/
2. In 'Enter user number' field for required edition of VIP Task Manager: Professional or Standard enter the required number of licenses you need and click "Calculate" and "Order"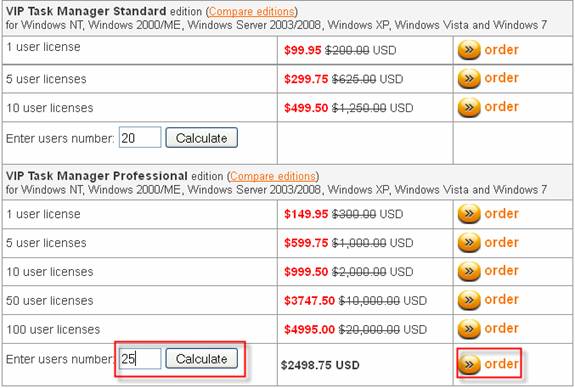 3. Fill in purchase information in the Order Form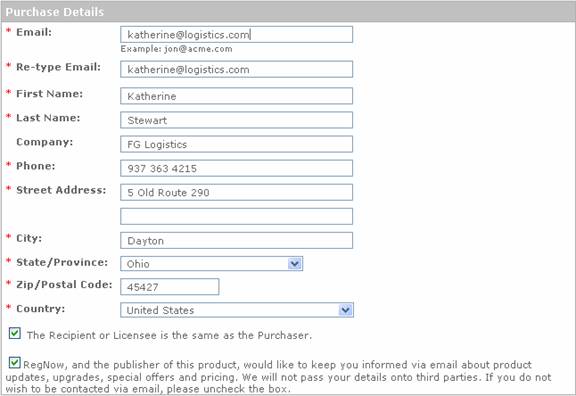 4. Select one of the payment methods in Payment Information section:
Credit Card
PayPal - USD Only
WebMoney - USD Only
Bank/Wire Transfer ($10.00 USD fee)
Check/Money Order ($2.50 USD fee)
Fax - Credit Card ($2.50 USD fee)
Purchase Order ($10.00 USD fee)
We would recommend you to pay the order by Credit Card as this option provides the fastest delivery of your order. The order paid by Credit Card is processed within 1 hour and upon completion you will be sent an email with your license file as confirmation of your purchase.
The following credit cards types are currently accepted: Visa, Mastercard, American Express (USD only), Discover (USD only), Visa Check Card, Eurocard, visa Delta and Diners Club
If you would like to pay by Credit Card click radio button "Credit Card" and fill in credit card information
To find the information about other available payment options please click the payment method name in the order form

5. After selecting the payment method click "Place Secure Order" button

Note: all orders are processed by our e-commerce provider RegNow (Digital River, Inc.).
You can call RegNow 24/7 Customer Service Center for phone orders and order related questions toll free from US and Canada at 1-877-353-7297. Internationally you can reach RegNow at 1-(952) 646-5331.
Alternatively you can email us your purchase request to support@vip-qualitysoft.com indicating the edition of VIP Task Manager and number of licenses required and we will send you the quotation and purchase instructions.