Effective scheduling lets decision makers allocate available human resources to tasks in a way that ensures on-time completion of related business goals. Task scheduler software helps you assign an appropriate number of workers to each task, set activity time-frames and durations, create job schedules, prioritize todo lists, receive automatic notifications.
The Benefits of Effective Task Scheduling
If there were no detailed schedule, it would be difficult to link task assignments to working hours. You would have just a todo list with multiple tasks assigned to you, but you couldn't realize when each one should be started and what deadlines should be met. Then lack of scheduling would make you inefficient at the workplace, and most likely you would just waste your working hours, rather than deliver expected value to your company. Besides, you couldn't collaborate with your colleagues and management.
So the greatest advantage of having a detailed job schedule in place is predictability. Your daily schedule tells you what tasks are to be done, what deadlines are to be met, and what priorities are to be followed. This document allows you to predict your possible steps and plan for effective use of resources, tools and equipment. Other possible benefits of task scheduling are as follows:
Daily work is planned according to strategic priorities
Decreased turnaround time
Improved communications and collaboration with personnel
Avoidance  of  overloaded and  underused resources
Job delays and schedule deviations are more readily apparent
An ability to review and forecast personnel effectiveness
Why Use Task Scheduler
All of these benefits can be achieved with use of effective task scheduler software. For example, in VIP Task Manager you can use the Calendar view to create and manage job schedules. The program lets display tasks on each user's calendar, so you can get multiple calendars displayed on a single screen. This feature makes it easier to review and manage several schedules at once. In addition, you can switch between daily, weekly and monthly modes to easily schedule short-term, mid-term and long-term tasks. In addition, you can use the timeline mode to get your tasks displayed on a time scale view.

Priorities, Time-frames & Due Dates to Schedule Todo Lists
Priorities, time-frames and due dates help make job scheduling more accurate and aligned with business objectives. Prioritization lets you organize and rank your tasks by their urgency and importance, so that you will know what items in your todo list should come up first. Time-frames tell you expected start and finish time or duration for each todo item - you can use this data to plan your actions more effectively. Due dates can be used to link your todo items to business goals and projects. In VIP Task Manager you can set different priority levels (from Urgent and Highest to Normal and Lowest), due dates and start & finish time for your tasks. The software lets make your todo list easier to read and understand - you can group all your tasks by the Priority column in the Task List view.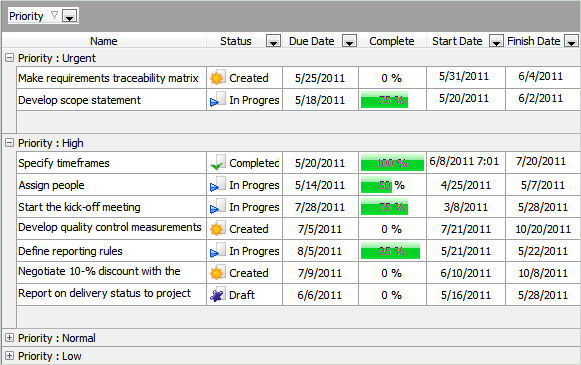 Reminders and Notifications to Track Events and Changes
| | |
| --- | --- |
| | Poor productivity and missed deadlines can be caused by forgetfulness. Even if you have a detailed schedule and a prioritized todo list you can't remember about each item that must be done. Certainly you can look at your daily tasks and due dates to know what assignments you need to accomplish today. However, when you are overloaded or stressed you can just miss something important in your todo list or forget about today's meeting or urgent phone call. How to solve this trouble? |
| | |
| --- | --- |
| Automatic reminders and notifications will be the right solution. For example, when you schedule something important in VIP Task Manager, you can set a reminding alert that will come up before your task's Start time/Finish time/Due date or at exact date and time. The task scheduler sends reminders right to your inbox and desktop. In case you want to track changes made to your schedule, you can set the program to send notifications of updates. | |