Custom Workflow 16: Unclaimed – Claimed – Failed – Completed
This workflow includes the following task statuses:
Unclaimed

Tasks with task status "Unclaimed" are created but not assigned.

Claimed

Task Status "Claimed" shows that the task was assigned and currently, theassigned resource is going along with the task.

Failed

Task Status "Failed" means that the assigned resource failed to completethe task.

Completed
Task Status "Completed" renders that the task is successfullyaccomplished.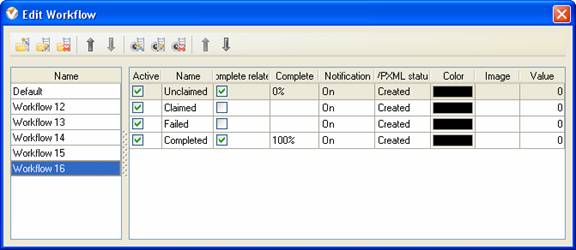 To create custom workflow using the statuses described above, please follow the steps below:
Go to: Tools/Custom workflow

Click "New Workflow"   button

In Name field enter custom field name, for example, "Workflow 16".

Click "Ins" button, enter the status name "Unclaimed" in Name field and click "Ok" button.

Click "Ins" button, enter the status name "Claimed" in Name field and click "Ok" button.

 Click "Ins" button, enter the status name "Failed" in Name field and click "Ok" button.

Click "Ins" button, enter the status name "Completed" in Name field and click "Ok" button.

Task statuses of Custom Workflow 16 on Task List