To make HTML or RTF reports of the tasks do the steps below:
Right click on required task on Task List, Task Tree or Calendar view and select 'Print task(s)…' from drop-down list

Check required data sections that will be included into the report
General – task name, priority, task group this task belongs to, Estimated & Actual Time, Workflow, Status, Complete, Due Date, Start & Finish Date
Assignments – the names of resources selected task is assigned to
Attachments – the types, names and descriptions of attachments of selected task
Notes – notes of selected task
Comments – comments of selected task
History – a history of task changes
Custom fields – names and values of custom fields selected task has
Tips:
To quickly select all data sections click on button
To quickly uncheck all data sections click on button
Select 'RTF' radio button to make RTF report or 'HTML' radio button to make HTML reports of the task.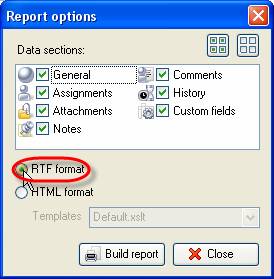 For HTML reports select required template from 'Templates' drop-down list. This template defines the view of the report.
Note:
You can create your own templates, go to the folder with VIP Task Manager product (by default it's path is C:\Program Files\VIP Quality Software\VIP Task Manager Professional) and put them into 'XSLT' folder. After that your templates will be available in 'Templates' drop-down list of 'Report options' window.
Click 'Build report' button